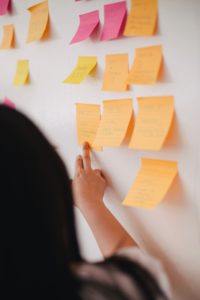 ☞ New to agile and not sure where to start?
☞ Things not going as well as they should?
☞ Does your Scrum feel flaccid?
☞ Can't find your flow?
Good news. We can help!
We have over 15 years of helping teams understand and roll out agile processes, including Scrum and Kanban. We live and breathe agility. We have extensive experience of the processes, mindset, and technical skills essential for success, allowing us to work closely with everyone involved – from the Development Team and Product Owners, right through to the C-level executive.
Whether you are starting on your agile journey, or your project has gone a little bit off-the-rails, we will helping you to put it on the right track for success.
By grounding our advice in a deep understanding of underlying values and principles, we will show you how to apply agility in the real world. Your real world.
Beginning with the core principles, we introduce the essential behaviours and technical practices for success, leading to regular, consistent delivery of real value to the customer.
We are able to offer flexible packages. Contact us for details.